Beneath the Sugar Sky (Wayward Children #3)
Seanan McGuire
174 pages (Hardcover)
Publishing date: January 9, 2018 by tor.com
Rating: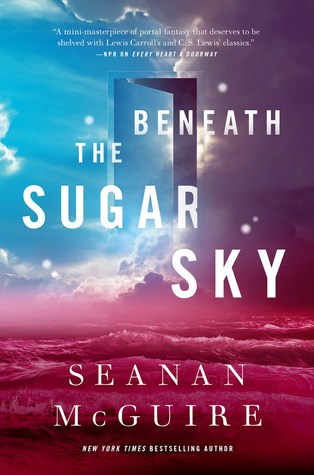 I would like to start out by saying thank you to tor.com for allowing me to read an ARC of this for an honest review.
"A good day's journey is like baking soda: use it well, and the cake will rise up to meet you."
---
Beneath the Sugar Sky returns to Eleanor West's Home for Wayward Children. At this magical boarding school, children who have experienced fantasy adventures are reintroduced to the "real" world.
Sumi died years before her prophesied daughter Rini could be born. Rini was born anyway, and now she's trying to bring her mother back from a world without magic.
---
Oh. my. goodness. This book was a hundred times better than the second book in the Wayward Children series. It was adorable, witty, and just down right fun to read. The title of the novel fits the story very well. I didn't give it five stars because I did have an issue with it that I will discuss later in the review.
Characters:
All of the characters in this novel were quite fun to read about. There were obviously some of the original characters in there such as Eleanor West, Christopher, Kade, Nancy, and Sumi does make an appearance (SPOILERS). We are also introduced to new ones such as Cora, Nadya, and Rini.
I never really had any issues with any of the characters except for Cora. I can't begin to describe to you how frustrated she actually made me. McGuire made her out to be a bigger girl supposedly (fat is what they call it in the story), and she lets it be heard that she indeed is a bigger girl. She mentions it at least ten times throughout the entire 174 pages. Do NOT even read the part of the book where the Queen of Cakes comes in. Then they mention that she loved to run and it was somehow impossible for "fat" girls to love running. It just bugged me. That's the reason I dropped it down a whole star rating.
I continue to love Kade, Christopher and of course Eleanor! She wasn't really in this one too much unfortunately. You end up learning a lot more about some of the original characters and I loved it. I always want to know more about them. It's intriguing to know if they want to go back to the world they visited or if they want to stay home.
not a single parent had accused her of wrongdoing, or attempted to launch an investigation into the disappearance of their beloved offspring.
I never really thought about the parents not coming for their children. It never really crosses your mind when you read the books. Most of the kids never want to go back home anyway. I just thought it was interesting.
World:
The world building is one of the reasons I loved these books so much. All the different worlds, and McGuire didn't just explain everything in one novel. You had to read all three in order to get what you wanted from the world.
In this novel you go into Confection which is a nonsense world. It's just completely filled with anything sugary and sweet. It's the world they go to get Sumi back so Rini doesn't completely disappear. It's also the world you meet Queen of Cakes and she will make you want to rip your hair out. Beware. You will understand why when you read the book! This world is very well described which makes it really easy to picture in your head.
You also go to Halls of the Dead where they go to pick up Nancy. It's interesting to know what the people do while they are there. They just stand completely still that it is a form of dance. Their body acts like it is dead, the heart doesn't beat and the cells don't age. It graces the Lord's halls. Hence the name Hall of the Dead. Since Nancy is an original character you are happy to see that she is happy. She wants to be in that world and honor the Lord of the Dead.
The Ending:
Is it really?
Overall:
It's a great book that will take you on quite the adventure. There is only one aspect of the novel that really grinds my gears, but other than that it was well worth the read. Since I do have an ARC of it I may buy the finished copy later in the future. If you haven't read the first two novels in the Wayward Children series you should probably do that. You don't necessarily HAVE to but everything will make more sense if you do. It's mostly the first one you should read. The second one doesn't play the biggest roles in the first and third book. Very short read but extremely entertaining.
If you read this book let me know what you thought of it in the comments. If you enjoyed reading the post give it a like or follow my blog for future posts. Be respectful and happy reading!