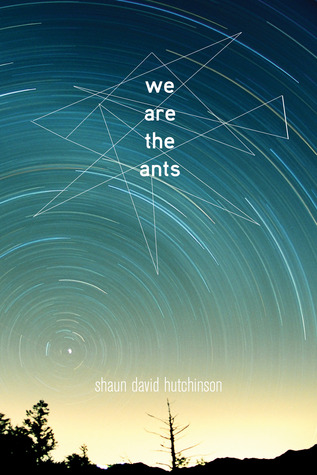 Genre:
Young Adult Fiction
Summary:
This is a novel about the male protagonist, Henry Denton. He was supposedly abducted by aliens and told that he had 144 days to decide whether he wanted the world to end or not. It all came down to this button that he was either going to push or leave alone. Through the course of those 144 days he deals with love, loss, and figuring out who he is. He meets Diego Vega, an aspiring artist from Colorado that he doesn't know much about, who could possibly change his mind about the world. It's an emotional journey that deals with relationships between family, friends and possible love interests. Trigger: Towards the end of the novel there is a mention of possible rape. If that bothers you just know that going into the novel. It's not a huge part but it is mentioned. There is also suicide mentioned quite a bit in the novel.
Narration:
This novel is written in first person narrative which is not so reliable in the end. Henry is in high school and because he's dealing with a mother that smokes and is trying to keep the family from falling apart, a brother who dropped out of college and is planning on being a father, a grandmother who is losing her mind, and a boyfriend that has committed suicide. All of these different aspects of his life has made him go a little crazy and for awhile he wonders why it would matter if the world ended. We are never for sure if he is actually abducted by aliens or if it is just him trying to give an excuse to end his life as well. Therefore, we only see what he is thinking and how he supposes others are feeling but his mind is too jumbled.
Setting:
The book takes place in Florida where Henry lives. He is mainly at school or at home but there is a plethora of other significant places he takes us here and there. The setting is not much of a driver for the story but there are certain places such as, his boyfriends old bedroom, that starts becoming important later in the story. It basically just shows that he is in high school and that gives the reader a hint of the struggles that happen in high school especially for a boy that has so much going on in his life. Other than that there is not much description about where he lives and goes to school.
Theme:
We are the Ants shows the reader just how large the universe is and how our actions ultimately don't matter in the end. If are worried about grades in school, what has happened in the past, or what happening now we shouldn't be because it doesn't matter all that much.
Evaluation:
This book was fantastic. It deals with possible problems that any person on the Earth could deal with in their lifetime. The writing definitely proves that the narrator is a high school student. Henry is easy to relate to but also impossible to understand. I enjoyed the relationships between him and his friends, family and Diego Vega. You learn about each person slowly throughout the book which was nice. I didn't have to learn about this person with all these experiences in one page. I gradually got to know them like it was a real life interaction.
Henry Denton was not my favorite character in the novel. I found him to be quite annoying at moments. He could never decide what he wanted from a person at any given moment. He compared Diego to his former boyfriend that had committed suicide. I don't fancy comparing two people because human beings are all different. I do realize he is in high school trying to find himself but his personality wasn't my cup of tea.
Throughout the story there were facts that were made up by Henry and it was interesting to see what he had come up with. They were some of my favorite parts of the novel. They often dealt with serious issues that were going on in the world but it had a twist that probably would never happen.
The writing style was very simple which made it a bit of a faster read, which I did enjoy.
One of the issues I had that brought my rating down was the romance in the novel. I'm not big on cheesy romance and it happens quite a bit. There are some raunchy parts as well mixed in. I do understand that he was trying to find himself but it wasn't for me.
Overall:
I would encourage anyone to read this novel. I will definitely try to read other novels by Shaun David Hutchinson. I borrowed this book from the library so I would buy it for my shelves. I believe this book has made good points about what life really is about. We really just are the ants in the grand scheme of things. It is a great message and I think if you read this book more than once you will probably learn something new every time. Give this novel a chance.