The Prophets by Robert Jones, Jr.
400 pages
Published: 1/5/21 by G.P. Putnam's Sons
ISBN: 9780593085684
Genre: Historical fiction
*Click on photos to view original source.
"A singular and stunning debut novel about the forbidden union between two enslaved young men on a Deep South plantation, the refuge they find in each other, and a betrayal that threatens their existence.
Isaiah was Samuel's and Samuel was Isaiah's. That was the way it was since the beginning, and the way it was to be until the end. In the barn they tended to the animals, but also to each other, transforming the hollowed-out shed into a place of human refuge, a source of intimacy and hope in a world ruled by vicious masters. But when an older man—a fellow slave—seeks to gain favor by preaching the master's gospel on the plantation, the enslaved begin to turn on their own. Isaiah and Samuel's love, which was once so simple, is seen as sinful and a clear danger to the plantation's harmony.
With a lyricism reminiscent of Toni Morrison, Robert Jones, Jr. fiercely summons the voices of slaver and the enslaved alike to tell the story of these two men; from Amos the preacher to the calculating slave-master himself to the long line of women that surround them, women who have carried the soul of the plantation on their shoulders. As tensions build and the weight of centuries—of ancestors and future generations to come—culminate in a climactic reckoning, The Prophets masterfully reveals the pain and suffering of inheritance, but is also shot through with hope, beauty, and truth, portraying the enormous, heroic power of love."
---
---
Triggers: Rape, abuse (physical, mental, emotional), lynching, death / murder (adult and child), animal sacrifice, slavery, racism, manipulation, loss of a loved one. Proceed with caution.
This was a difficult book for me to rate, not that the rating of a book like this is important. The importance comes from the incredible messages this story delivers. The main issue, and probably the only issue, I had with this book was the confusion I felt after finishing a few of the chapters. I'm not a critical reader, and sometimes I feel like because of that I shouldn't review books. There's always a little bit of impostor syndrome in me. Regardless of what kind of reader I am, I couldn't give this five stars due to the reason mentioned. I couldn't quite catch on to the concept. I don't know if I should know more biblical references to understand it, but this book didn't really do anything to ease the confusion. But, it's incredible other than that.
There are a lot of characters to follow with this one, so taking notes couldn't hurt the reading experience. I didn't get them confused at any point, which I can always appreciate with a story of this stature. I will note that you don't only follow the slaves. Following the whites of the story is very cringe and rightfully so. It's also hard to read as far as content. There were points where I wanted to put it down for good, but not in a "I hated the book" way. It's just so heartbreaking that these events happened/still happen. If I could snap a finger and make it go away, I would.
I don't want to forget to mention the highlight of the book, the LGBTQ+ representation. That's mainly what the story is about—Samuel and Isaiah (The Two of Them). I don't think we got to see enough of them and their relationship because there are so many characters, but that doesn't mean I didn't deeply care for them. They didn't always see eye-to-eye, but the love and admiration they had for each other was commendable. Oh, the ending will get to you if you end up loving these characters. It's a tragedy, for sure. I was actually prepared for that, and I hope that I can prepare you for that if you haven't read this yet.
This won't be a book that everyone will enjoy based on how it's written, and the fact that it's character-driven. Sometimes character-driven books aren't for me, but this one was well done. It wasn't my favorite part of this novel just because there were so many characters. I just appreciate the message and the honesty. It's heartbreaking, harrowing, brutal, admirable, and powerful.
Is it revolutionary?
I would think that's also based on preference. It's not for me but it's damn near. It just seemed so original from anything I've read. The writing itself isn't hard to understand. There's great description and dialogue. I read that some people thought it was slow, but I was flipping pages like a madman. The relationships between the characters are incredibly fleshed out. I think it's an important novel for our modern day, and whether or not you enjoy it subjectively, it undoubtedly packs a punch.
My favorite quotes:
"She knew that they purchased everything except mercy."
"The scars lined them the way bark lined trees. But those weren't the worst ones. The ones you couldn't see: those were the ones that streaked the mind, squeezed the spirit, and left you standing outside in the rain naked as birth, demanding that the drops stop touching you."
"Water done wore away at her stone, and the next thing she knew, she was a damn river when she could have sworn she was a mountain."
"Whenever and wherever nothing encounters something, conflict is inevitable."
"But how? How could they not need more of everything: more love, more life, more time?"
"How dare nature continue on as though his suffering didn't even make a dent, like the bloodshed and the bodies laid were ordinary, to be reduced to fertilizer by insects and sucked up by crops. No more than cow dung in the grand scheme. Same color, too."
"There could never be peace, only moments in which war wasn't overwhelming."
"I ain't rotten fruit; I a man."
"No one would remember her name, but she had become a larger spirit now: head bigger, hips wider, and whatever the hurt. All the ones who had come before her simply pumping through her heart and they had found a place to be in the caverns of her throat. There, she recalled her voice."
"Only one question: What to do when the cavalry arrives? Only one thing to do: With every drop of blood: Rebel!"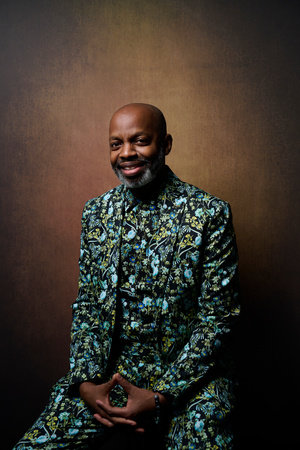 "Robert Jones, Jr., was born and raised in New York City. He received his BFA in creative writing with honors and MFA in fiction from Brooklyn College. He has written for numerous publications, including The New York Times, Essence, OkayAfrica, The Feminist Wire, and The Grio. He is the creator of the social justice social media community Son of Baldwin. Jones was recently featured in T Magazine's cover story, "Black Male Writers of Our Time." The Prophets is his debut novel."
---
If you enjoyed this, then give it a like and follow my blog and other social media. Be respectful and happy reading!