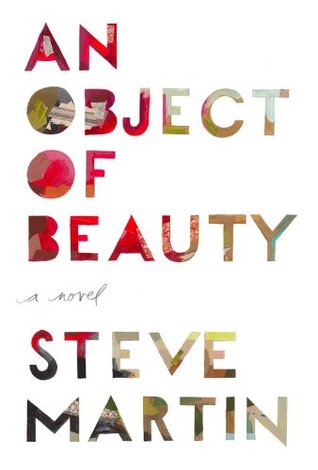 Book title: An Object of Beauty: a novel
Author: Steve Martin
Publisher: Grand Central Publishing
Publication date: November 23, 2011
ISBN: 0446573647 ISBN13: 9780446573641
Page count: 304 (Hardcover)
Rating: 4.25/5
Goodreads | Amazon
"I am tired, so very tired of thinking about Lacy Yeager, yet I worry that unless I write her story down, and see it bound and tidy on my bookshelf, I will be unable to ever write about anything else."
Browsing through my local library I came across this specific book. I will admit that the only thing that made me stop was the fact that it was written by Steve Martin. He's one of my favorite actors and he can play the strings off a banjo. When I took it off the shelf I noticed that the cover was beautiful! Then I read the synopsis and I thought it may be a book that is up my alley.
About the author:
In the back of the novel there are references for the photos he uses throughout the story which definitely takes the book up a notch. I was very hesitant because I wasn't sure if Steve Martin even knew anything about art. I only knew him as an actor that sometimes played the banjo. I did a little research and he is an art collector as well. He collects modern art along with art from the 20th century. If you do any research on him you will see all the posts about him collecting art as well as his exhibition in Las Vegas at the Bellagio Hotel. It made it a lot easier to get through the book knowing he had knowledge of different artists and what it is like to buy, sell and trade the beauty that is art.
Synopsis:
This novel is told by a narrator that goes by the name Daniel Franks. He shows us this wild journey of a woman he knew named, Lacey Yeager, who made her way through the art world in New York City. She travels her way through Manhattan and St. Petersburg. It took place in the early 1990's to probably the end of 2009. This woman started working at Sotheby's, one of the top brokers for art and other precious artifacts. She then tried to climb up the social ladder by creating these relationships with different people who were rich and full of life in the art world. It shows how dark and twisted the art world can be when a person climbs the social ladder.
My thoughts:
I listened to the audio book on overdrive, narrated by Campbell Scott, while I read the physical copy. I have been trying to make my way to different genres and so just normal fiction was where I wanted to start. I struggled in the beginning because I am not used to the writing style of fiction writers. I am used to young adult fiction and the simplicity of it so to speak. Hearing someone read it to me while I also read it made it a little bit easier to understand. With that said this book is written beautifully! It floats you down the river that is the art world in the 1990's. You better take a cold beverage and some sunblock with you because it's going to be a long, hot journey.
This novel takes you through the struggle the art world had come across in the late 1990's, early 2000's. There is dialogue in the novel where a man named Hinton is comparing modern art to an ugly big-headed puppy. He wasn't necessarily calling modern art ugly but there was a big difference in the generations of art.
Disclaimer: This novel does have a few scenes dealing with sex along with drugs. It is not as vulgar as some books can be but it's in there. If that does bother you I recommend either skipping those parts or just not reading the book.
Narrator:
This story is told by Daniel and he even mentions that the story is told from his own recollections, conversations with her and people around her and gossip. It also has a little bit of imagination threaded through it because he wasn't with her every second of every day. It works though believe it or not. I would love it if there was a companion novel that Lacey wrote from her point of view. Then I would get both sides, but with that said I enjoyed her story nonetheless. It doesn't feel biased but sometimes you feel bad for the way she is portrayed. Since we only see Daniel's perspective it makes you think a little bit about what actually went on at some points in her life.
Characters:
Lacey Yeager was definitely a force to be reckoned with. No, she didn't have the best reputation throughout the novel but throughout the span of her art career she never gave up. She does anything and everything she can do make money from selling art. She is a bit of a scammer but who isn't when it comes to climbing that dreaded social ladder of New York.
Daniel, the narrator, didn't put himself in the novel much until the end of the book when he decided he wanted to write the novel about Lacey. At the end of the novel he never mentioned that his novel of her was ever published. He also had some issues with a scam he was involved in with Lacey, but nothing really came from it. He helped Lacey question her actions at certain points in the novel, even though most of the time she did what she wanted.
Overall:
This novel was very enjoyable to read. It may not be as enjoyable or interesting to someone who might not care about art all that much. I participated in art class all four years and every semester in high school. I have created my own art that I have loved and tried to sell. I was familiar with some of the artists names throughout the book that I learned about in school. It was interesting to know about all the scams that went on with certain pieces of art. If you do read this novel you need to put yourself in it. You can't just skim it and think you caught everything because it won't work (unless you have some sort of photographic memory). I do recommend this novel 100%.