Eliza and Her Monsters
By: Francesca Zappia
385 pages (Hardcover)
Publishing date: May 30, 2017 by Greenwillow Books
ISBN: 9780062290137
Rating: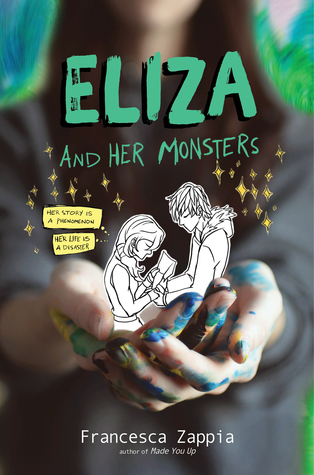 "That's about feeling like you're in the wrong place, and fighting forces you can't stop, and how there are monsters out in the world, but usually the worst monster live inside us."
---
Her story is a phenomenon. Her life is a disaster.
In the real world, Eliza Mirk is shy, weird, and friendless. Online, she's LadyConstellation, the anonymous creator of the wildly popular webcomic Monstrous Sea. Eliza can't imagine enjoying the real world as much as she loves the online one, and she has no desire to try.
Then Wallace Warland, Monstrous Sea's biggest fanfiction writer, transfers to her school. Wallace thinks Eliza is just another fan, and as he draws her out of her shell, she begins to wonder if a life offline might be worthwhile.
But when Eliza's secret is accidentally shared with the world, everything she's built—her story, her relationship with Wallace, and even her sanity—begins to fall apart.
---
Let me start out with saying that the reason I gave this book three stars was not because I'm trying to bash mental health. I completely understand that it is real and not something that should be taken lightly. I gave this book three stars for the way it was written and how intriguing the story was.
Eliza:
I have only heard raving reviews of this novel and I get it. I could definitely connect with Eliza. I don't like being around groups of people, and I would rather stay at home and read or watch television. It was hard to watch her not connect with her family, and not make any friends outside of the online community. With that being said, I did enjoy reading about the world she created, making it her world. She had a passion and I think it made it a more bearable to read. Most of the time if there is an anti-social teen I'm never really that interested. However, an issue that I did have was that I found Eliza to be too much at times. I don't even think it had to do with the mental illness. Her reactions to everything almost seemed unnatural to the rest of the story. It shone through more towards the middle/end of the book. It made me not want to continue reading.
Wallace:
I enjoyed him when he first entered the story. I almost thought he was going to be the typical jock but I kind of figured that wouldn't be the case. He was super sweet to Eliza, and enjoyed Monstrous Sea. Finally a person that can connect with her just a little bit.
The issues I had with him were that he was the same throughout the book. He had the same emotions the whole time. I figured he would be a bigger part of the story but it's almost as if he wasn't fully developed as a character. He became very weird and distant in the story and it confused me. I wanted to see progress with him, because isn't that what we all expected? The only time we ever really witness it is at the very end of the novel.
Monstrous Sea:
I felt like the web comic aspect of the story was extremely unrealistic. What are the odds that people actually leave notes in her locker or get tattoos because they are that big of fans? There is a possibility, obviously. It just didn't work with the book. It was definitely movie like and I wanted something different from it. Something a little deeper. There are probably a ton of books with that same story line. I was hoping this one would have stuck out a little more to me.
A pro was the art work mixed in with the story. They were really good illustrations. I sometimes enjoyed reading the comic more than the actual story. Usually side stories like that don't interest me all that much. It could have been an actual comic/graphic novel.
Therapy:
When Eliza went to see the therapist it was very cliché and things I have heard in movies and other books. Nothing about what was said blew my mind. Not that this book was really shooting for that. An example would be what the therapist said:
"Eliza, your worth as a person is not dependent on the art you create or what other people think of it."
I've heard and read different versions of this before. Not to say that it isn't true, because it does have some meaning. I want something to make me set the book down and question life for a moment. That's probably just me asking for too much (surprise, surprise).
Family:
Family played a larger role in this novel than I expected. I actually ended up really loving Eliza's little brothers, Sully and Church. Even though they were total brats, they really cared for Eliza. They only wanted to see her be the best Eliza she could be. They stuck up for her when her parents told everyone that she was the genius behind Monstrous Sea. I just really adored them.
Wallace's family was more on the heartbreaking side. They didn't like the fact that Wallace wanted to write for a living. They told him he wouldn't be able to make a career out of it, but Wallace knew otherwise that one day he would live his dream.
"What's the point of being alive if you don't do what makes you happy? What good is a career that makes you money if you hate yourself every day you do it?"
Then you learn more about what happened to his father and you just want to give him a hug. I won't spoil it for you.
Overall:
It was a very cute fast read for me. It didn't blow me out of the water but it had topics that probably hit home to some people. I'm not sure if they were dealt the right way in this novel, but I'm not the one that can sit here and judge considering I've never dealt with anything that Eliza or Wallace dealt with. I enjoyed the different family aspects of the novel. Wallace's family was definitely different from Eliza's. Was the book a waste of my time? I don't think so, but it wasn't my favorite. Maybe I just haven't read enough books like it to even compare. It did keep my attention for the most part and the writing wasn't terrible so therefore I gave it three stars.
If you have read this novel, let me know what you thought of it. If you enjoyed reading this blog post give it a big ol like and follow me if you want to read future blog posts! Be respectful and happy reading!