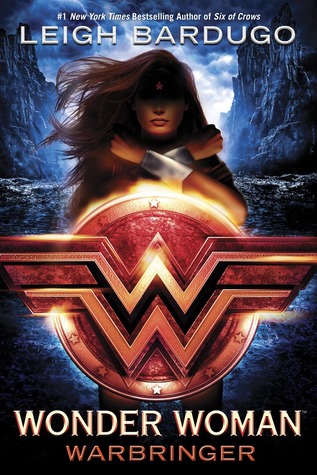 Title: Wonder Woman: Warbringer (DC Icons #1)
Author: Leigh Bardugo
Page count: 369 (Paperback)
ISBN: 9780141387376
Published date: August 31, 2017
Rating:
Goodreads | My Goodreads Review
Buddy read with my friend on goodreads BooksAreLife
"You take a bite. You take another. How are you supposed to know when you'll be full?"
Synopsis:
This is a novel that follows Diana or Wonder Woman in case you were curious who that was. She wants to prove herself to her mother and warrior sisters. The island that she lives on, Themyscira, does not allow mortals but Diana decided to break that law by saving Alia, a Warbringer. Due to the heroic act she "dooms" the world and needs to fix it before it is too late.
Opinion:
Was this book worth the hype? No. I know this is an unpopular opinion. A 3.5 rating is actually me being incredibly generous. A 2.5-3 stars is what I actually think it deserves. I'm disappointed because I have been wanting to read novels by Leigh Bardugo and I figured this would be a good start because it's a stand alone. I either made the mistake of starting with this or she just isn't the author for me. I'm sure she's fantastic for other people though.
Characters:
Lets start with the characters in the book. There is Diana: Princess of the Amazons (Wonder Woman) whom I do enjoy most in this novel. She was the least frustrating character. She was a very strong female protagonist, physically and mentally. She thought about everything thoroughly before following through. In the real world that would get exhausting and annoying but in the book it worked. All she wanted to do was prove to all the other amazons that she was just as strong as them. Yes, she made mistakes in the book which was another reason I liked her. I've always thought of Wonder Woman as this strong woman who is flawless, but we all have flaws and so did she.
Side note: I especially loved when she kicked Jason's butt! (even though Jason could have fought back)
Alia, the Warbringer and descendant of Helen of Troy, is a character I had issues with. She really aggravated me because she never listened to Diana. She did help Diana keep her identity secret by coming up with a last name for her, but that's about it for her. When Diana told her to err on the side of caution when it came to Jason she never thought twice about him because that was her brother. The only pro I could think of for her not listening is that the story would be extra boring.
Jason, Alia's brother, is the last character I am going to talk about. Lets just say that he is super cheesy and part of that "brother betrays sibling" trope (BooksAreLife and I discussed this about the book). You know he is just a liar and a sneak from the moment you meet him in the novel. THEN there is the monster he created! Don't even get me started. Pinon the Drinker was nothing very special at all. The name says everything basically.
There is also Nim and Theo which are a few characters that didn't bother me as much, but that may be because I didn't pay MUCH attention to them. A few interesting things did happen to them that I don't really want to spoil much else.
Description:
I will say that the description in this book is probably one of the better aspects. I could understand everything that was happening without being confused. It is geared toward YA so there really isn't much to it. The part at the end with Pinon wasn't really graphic enough for me but I guess I should read adult fiction for that. There wasn't anything particularly astounding but I did tab a few quotes. That has to mean something, right?
Dialogue:
I did not like the dialogue in this book at all. I found it cringe worthy and boring. At one point I asked myself why dialogue was even in this book because it took the story nowhere. I want dialogue that makes me think a little bit, and I guess that's why I like mysteries a lot. I enjoy when someone tries to solve a crime or when a courtroom is involved. I get why maybe an action packed book wouldn't have good/much dialogue but this book didn't even curb my action craving.
Overall:
I guess I wasted my time on a book I didn't enjoy but honestly I wanted to see why everyone hyped up the book and Bardugo's writing. I know I shouldn't judge an author from one book and I may read one of her other ones in the future. Right now that is not my number one priority.
I do understand why everyone loved it. It was very entertaining, easy to read and fast paced. It just was not my cup of tea.
If you enjoyed this review please make sure you leave a comment down below and let me know what you thought of the book. You can also follow me if this is the first post of mine you are reading. Remember, be respectful and happy reading!