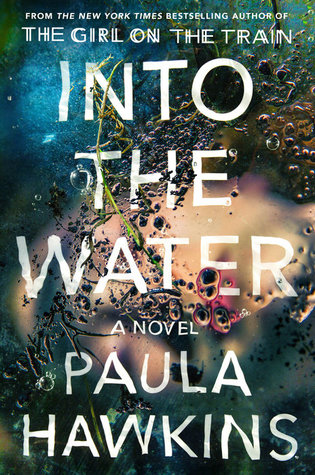 Book Title: Into the Water
Book Author: Paula Hawkins
ISBN: 9780735211209
Publishing Date: May 2, 2017
Page Count: 386 Pages
Rating:
Disclaimer: This novel touches on the subject of suicide as well as rape. If those are triggering this book probably won't be for you. I would recommend it to you to just skip but it is a bit of a bigger part.
Synopsis:
Nel Abbott is found in the river, dead. The spot where she is found is referred to as the drowning pool. Before she died she had called her sister Jules. Nel had a daughter that Jules is now responsible for. The Mill House has a lot of secrets and memories. This book is all about whether the girls that were found in the drowning pool had jumped or were murdered. The story is told in the multiple perspectives of all the characters that were involved in the deaths of these women.
This was definitely a good solid mystery read, but for me it was very drawn out. One thing that kept me reading was the fact that I listened to the audio book as I followed along with the e-book.
Setting:
This novel is really good at describing the setting. There's not a lot of description about the surroundings of the characters but when there is, it's well written. It gives you the vibe of a mystery that deals with water. Are you picking up what I'm putting down? Maybe it's just me that thinks that. If you like to read books that has more description rather than dialogue then this book really wouldn't be for you.
Characters:
Lena Abbott is probably my favorite character from the book. There weren't a lot of characters I enjoyed reading about considering it was a mystery. She was mostly aware of what was going on. She had some faulty moments, as did everyone, where I questioned if she was a favorite anymore. If you read the novel you will understand.
Josh is probably my least favorite character. I understand that he is a kid but he just annoyed me so much. He was always whining and crying about everything. There was really no character building for him and not much emotion besides whiny. Did I mention he was annoying? Haha.
P.S- Louise Whittaker is another one of my least favorite characters. She was just so mean. I understand that her daughter died but she blamed it on everyone. I guess that was her grieving, but it just irked me.
Overall:
It was an enjoyable read and I would recommend it if you're just getting into mystery. It was a bit confusing for me in the beginning but that was because of the way it was told. You had all these characters introduced and you just had to wait to see who they were. I guess that's why they call it a mystery right? I checked this book out from my library's overdrive. I probably wouldn't read it again so I don't know if I would buy the book.
Let me know if you've ever read this book and what you thought about it. Be respectful and happy reading!