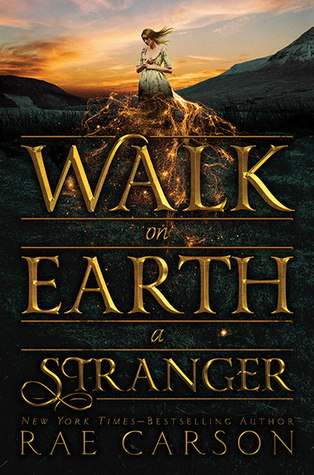 Book title: Walk on Earth a Stranger (Gold Seer Trilogy #1)
Book author: Rae Carson
Publishing date: September 22, 2015
Publisher: Greenwillow Books
ISBN: 0062242911 ISBN13: 9780062242914
Page count: 436 (Hardcover)
Rating:
Rescued thus from sin and danger,
purchased by the saviors blood,
may i walk on earth a stranger,
as a son and heir of god
Fun fact:
I thought Rae Carson was a man for probably half of this book. Sorry Rae!
Synopsis:
This novel takes place during the gold rush and follows a female protagonist, Lee "Leah" Westfall. She has this ability to sense when gold is present. When her world falls apart at home she makes her way to California. To get there she runs into some issues and creates relationships that end up being like family to her. It's a journey that deals with a lot of death and even some life!
My thoughts:
I enjoyed this book a lot which I didn't really expect. I was waiting for it to be so boring I'd have to DNF it. Boy was I so wrong. I loved it so much that I pretty much finished half the book in one day, which to some book lovers is easy peesy. I'm a pretty slow reader so reading over 200 pages is a lot for me. What blew my mind was how well this book flows. It's super easy to follow along and picture what happens. The reason I didn't really give it four stars was because there were parts that I didn't feel were really that necessary. It is mostly just Lee traveling to California so some things were necessary to keep the book interesting. That's understandable but I feel like it was a bit much at times. That said, all the scenes in the book are something you would expect on a journey like this. They have to ride in wagons from Georgia, or anywhere near, all the way to California so hardships and death is definitely expected. You really experience hardships like the heat of the desert. The way it is described it almost feels like you are in the story with them, dying of heat stroke.
Characters:
The characters were actually very easy to relate to, like or dislike. There is a guy named Frank Dillery that I absolutely hated and if you read this book you will know why. There were also characters like Lucy and Therese that you just enjoy reading about. They are passionate about being a family and sticking together. They weren't all caught up in getting to California and finding gold. Leah was determined and persevering! She's definitely a character I look up to. I never really found her annoying at all. She helped so many people along the way without expecting anything in return.
Overall:
I was happy with then ending but since this is a trilogy I feel like I need to read the other two. I'm not sure how exciting it will be considering Leah did what she set out to do. I know that it didn't explain anything after they stopped their journey, but that was honestly fine with me. It was a fantastic journey to go on and I recommend this book to anyone interested in the gold rush or anyone that likes to read books set in the past.
Disclaimer: There are little bits of animal cruelty dealing with buffalo. I'm only adding this because it actually made me sad. If it doesn't bother you then move along! I'm just a big baby when it comes to that.
There is also quite a bit of death involved. I don't know if that should be a disclaimer but I'm just covering all the bases.
What did you think of the book? Is this book on your TBR? Comment down below but be respectful and happy reading!