Hello everyone! I'm here with a different type of blog post I've been seeing around. It's called the "Down the TBR hole." The rules are down below but I decided to go ahead and just pick at random instead of in order from ascending. This sounded fun and my TBR on goodreads is a total mess! Two of them end up being KEEP and three of them are GO. I've decided that just because a book is popular I don't have to pick it up if I don't want to. Hence why I have the problem of wanting to read over 100 books. This will definitely help me narrow my reading down a bit. I hope you enjoy!
RULES:
Goodreads to-read shelf

Date added: Ascending

Take the first 5-10

Read synopsis and decide if you want to keep it or not.
A Darker Shade of Magic by Victoria "V.E" Schwab 
Date added: 09/20/17
I have the whole trilogy on my TBR and I've definitely heard some mixed reviews about it. I haven't been able to get my hands on it just yet, plus I have so many other books to read before these. I'm still interested in reading it because the synopsis sounds good. I think I'll save these, well at least this one, on my TBR for now. 
-KEEP-
The Gentleman's Guide to Vice and Virtue by Mackenzi Lee
Date added: 08/09/17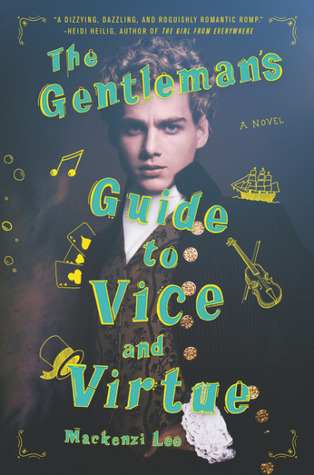 I have picked up this book once from the library and read a chapter. I don't think I was in the mood for it. I'm not sure I want to pick it up again because even though I've heard good things about it it's just not my taste in books. I tried to branch out and where this was more historical YA it wasn't as interesting. I don't want to read something just because everyone else has. I think I'm going to let this one go.
-GO-
Do Androids Dream of Electric Sheep by Philip K. Dick
Date added: 09/20/17
I found this novel randomly on a book store's website and at the time I thought it sounded interesting. I reread the synopsis and it doesn't sound like something I'm interested in anymore. I think we all know where this is going.
-GO-
Carve the Mark by Veronica Roth
Date added: 09/20/17
I've had this book on my TBR for a while. Maybe not on my goodreads but it's been ever since I watched a booktuber talk about it awhile back. Again, the synopsis leads me to believe I would not like this book. I could give it a chance but I have so many other books that sound better than this one. 
-GO-
The Looking Glass Wars by Frank Beddor
Date added: 08/08/17
This book, along with the other two in the trilogy, was one that I bought at my local Books-a-Million store. It sounded interesting to me then and it still sounds pretty good now. It is on my physical shelves so it is not going anywhere anytime soon so I will read it when I feel like it. That being said it is staying.
-KEEP-
Thanks for reading and don't be afraid to comment what you think of my choices. Be respectful. Come back for a blog post everyday!